Ski & Snowboard
Cerro Catedral is the biggest Ski Resort in Southamerica. It features the fastest lifts and most comfortable ones.
With more than 50 runs for Skiers of all different levels of expertice and a Snowboard Park of more than 3000 sqmt. Where riders can experience big air, jumps and tricks, boxes and railways.
In addition to this, the best Ski School is at your service, offering lessons for beginners, intermediate or just a companion to ride the 120 Km of ski runs in Catedral Alta Patagonia with the best instructors and brand new equipment. They also offer a Kinder Ski School for children to learn at you same pace.
Trekking
A very good alternative to experience Bariloche is walking to one of our mountain refuges in Nahuel Huapi National Park. The trail to Refugio Frey beggins some meters away from Galileo Boutique Hotel. This walk is famous for it´s green lagoon over 1700masl. This hike is of course in constant contact with nature and can take from 3 to 6 hours. There are many other hike trails well marked and kept by the National Park rangers. Although the signs are easy to follow, we always recomend you to announce your destination to the "Club Andino" or at the hotel so we can keep track of your safe return. Patagonic forests are a refuge from urban noise where you can enjoy the birds singing, and water running in our pristine rivers, creeks and waterfalls while you take as much fresh mountain air as you possibly can.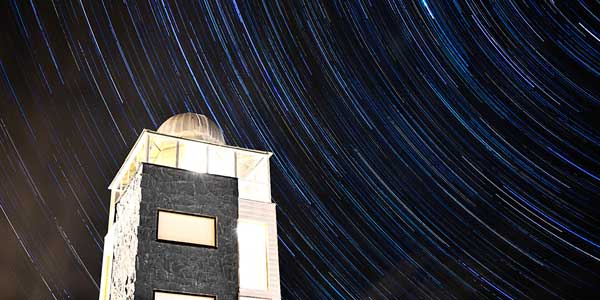 Astronomical Observatory
It´s impossible to ignore Patagonia´s stellar attribute, the Southern Cross! Galileo Boutique Hotel, features an observatory tower with a high resollution telescope to present our guests with guided tours through this region´s sky. We wait for you at the bar or reception area and our astronomical guide leads you up to the tower. After this great experience you can delight on one of our dishes and wines.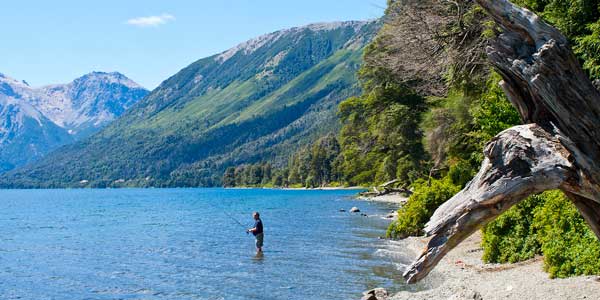 Fishing
At Galileo Boutique Hotel we are passionate for flyfishing.
World famous Bariloche is one of the best places to practice flyfishing according to Mr Mel Kriegger.
Close by and just minutes away from the hotel, you´ll find the clearest rivers and lakes where you can wade or float looking for rainbow, fontinnalis (brook trout) and brown trouts, always the fighty ones.
This experience will produce days of charme, enjoying life, nature, great views and incredible catch.
Golf
In a 30 minute range from Galileo Boutique Hotel we have two of the best golf courses in Patagonia. Both feature 18 holes, par 72 and are surounded by captivating nature. Mountains, lakes and ancient woods will be your best allys to improve your score. We can of course programme your lessons with the course´s professional, and also book your tee time or rental equipment; such as golf carts, or golf clubs. At the Pro-Shop in both courses you can find the rest of the necessary gear and small souvenirs for your golf mates at home.
Kayak & Stand Up Paddle
In Bariloche the lakes are fed by melting snows so the colours are unbeliebable; green, blue and cristal clear. We proposse you to kayak your way around Gutierrez Lake, Limay River or Mascardi Lake. Kayak schools offer half day trips, full day and twi day trips, where you can spend a night under the stars. This plan is for all ages and skills. The new trend in Patagonia is practicing SUP or Stand Up Paddle, both in lakes and rivers, it´s amazing to paddle this water. Also if you are a Yoga lover, we offer yoga Lessons and practice over SUP boards to test your equilibrum.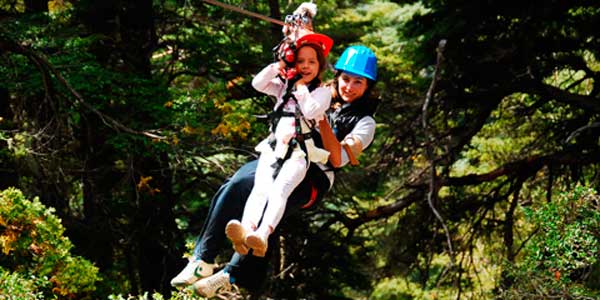 Zip line
Canopy as we call it or Zip Line can be practiced close to Cerro Lopez, a few kilometres away from Cerro Catedral. Flying through the woods to feast on this beautifull sights in Patagonia. This is a different and fun option for those who enjoy adrenalin rushes and nature. Fly 1500 mt in the woods, divided in 10 platforms. This activity can be perform by your whole family, children love it because they get a courage certificate.
ATVs or fourtrax
ATVs or fourtrax is one of the favourite trips for guests at Galileo Boutique Hotel both in Winter and Summer. This vehicules are rented at the base of the mountain, andyou are guided in a tour around the mountain skirts. You will cross woods, forests and Casa de Piedra Creek and afeter 2 hours of amazing views you reach the calm and misterious Moreno Lake. During winter season there´s snowmobile dinner trip to the mountain where you will seat in a cave for a banquet and ride back to the hotel under the clear starry sky.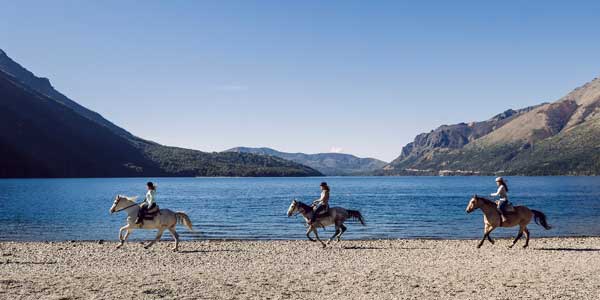 Horse riding
This gratifting activity can take you visiting our woods, in contact with gauchos, great horses and nature, of course. Cliffs and mountains, valeys and stepes, a variety of landscapes will host unique and unforgettable experiences. Following this secret trails you will discover condors, purple eagles, deer, foxes and all types of birds that live in our forests. Our favourite rides are in Mount Tronador, across the woods and into the waterfalls, discovering hidden glaciers. We also recomend interesting rides in Patagonic Ranches "Estancias", that usually finish with a great assado lunch or a late afternoon tea with hommade cake and cokies.
The patagonic Step is a ver different and dessertic sight, where crossing valeys and hills you can find condors resting houses. There´s a Ride called rio Manso´s frontier where you combine a white water rafting trip with a horse riding afternoon.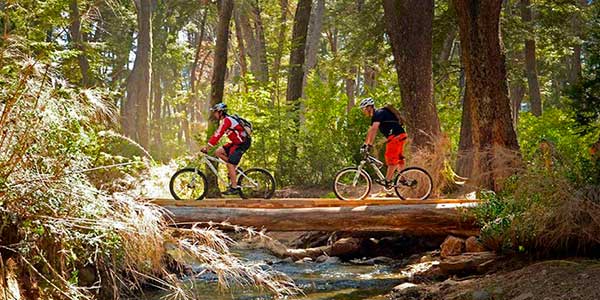 Mountain Bike
One of the most popular activities during Spring and Summer at Galileo Boutique Hotel is Mountain Biking. There are many trails at Catedral Mountain, with different levels of difficulty. You can choose from fast downhill runs or just trails around the mountain. There are many circuits also in the national park that you can choose from. There are many rental companies that rent both high end and basic bikes depending on the chosen circuit. Many of our guests choose to travel with their own bike to explore the Patagonic roads the best possible way.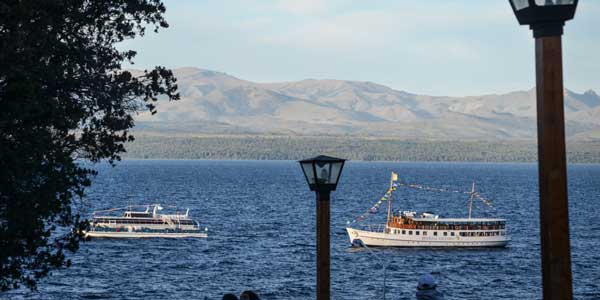 Lake tours
Bariloche is located at one of the Lake Nahuel Huapi´s margins. Sailing from Puerto Pañuelo pier you can choose from Victoria Island or Puerto blest Excursions. During summer they can both be half or full day trips. There´s also one boat trip leavign from Bahia Lopez that rides to Tristeza Branch in the Nahuel huapi Lake. Those in the mood for a private tour can sail with El Orgulloso Sailboat and explore Nahuel Huapi in private.
Traditional Tours
We also recommend traditional day trips in Bariloche that can be booked at one of our referred travel agencies or just rent a car and drive your way to them. Everybody talks about the Senven Lakes Circuit, leaving San Carlos de Bariloche and visiting Villa la Angostura, getting off the car in every lake in between here and San Martin de los Andes. This trip lasts at least 8 hours and might be too long for those not used to riding so long in a car or travelling with children. We suggest instead trying the Circuito Grande, a fraction of this trip; departing San Carlos de Bariloche on the way to Villa Angostura and taking a detour to Villa Traful crossing some kilometers of unpaved road until meeting again Route N°40 to return to Bariloche.
Our proposal is to visit Tronador Mountain on another day of your journey, leaving early from Cerro Catedral and taking Route 40 South on the way to Lake Mascardi or El Bolson, you will enter Nahuel Huapi National Park to visit Los Rapidos (the intersection of Manso River and Lake Mascardi) to get to Pampa Linda, the Ventisquero Negro Glacier and may be take a horse ride into the mountian. Please check the regulated schedulle to enter and exit this road since its a one way. On the afternoon you can visit the second part of this trip; Lago Roca, Lago Hess and the Alerces Waterfall, that requires a 3 km hike.
The Small Circuit or Circuito Chico is a half day tour that leaves from Galileo Boutique Hotel, at the Base of Catedral Ski Resort, and follows Bustillo Avenue on the way to the traditional hotel called Llao Llao Hotel & Resort. On the 25 km to get there you can visit Mount campanario and it´s sceneric cafeteria overlooking Lake Nahuel Huapi and Victoria Island, Lake Moreno, El Trebol Lagoon, and so on. Almost 100 mt before reaching the hotel, you will find San Eduardo Chapel, an old building with some interesting Soldi paintings, and right after Puerto Pañuelo pier where all the lake boat trips depart from and the Llao Llao Golf Course and Hotel. If you follow the Road you will get to Bahia Lopez over Moreno Lake, always surounded by lakes, mountains, and incredible views.
Cooking lessons
You can learn to cook in Bariloche, of course. Book your classes in Patagonia. The possibilities are many; introduction to Craft Beer, red Fruit preserves, empanadas and many more. If you decide, let us know in advance so we can programme this experience.
Learning Spanish
Learn Spanish in Bariloche, in the mountains… Enjoy your stay at Galileo Boutique Hotel and become a Specialist in Argentina, even dominating the language. We can schedulle private lessons at the hotel, field trips to the lake and mountain lessons combining Ski and Spanish. There´s also an option to participate in group lessons downtown Bariloche. The group plans are for begginers, intermediate or intensive for advanced students.
Yoga practice
Bariloche and Parque Nacional Nahuel Huapi are just ideal to recharge your batteries and prepare your body and soul for great vacation in Patagonia. We are ready to book your Yoga Lessons to correct posture, strengthen your core, improve your balance, stretch your body and many other goals. Each session can intent different purposes such as detoxing, improve digestion, etc. You can also attempt to combat stress, fobia, anxiety, depression, low self steem with a sensible instructor leading a balanced and holistic practice.